# Enable Banking Changelog | November 2022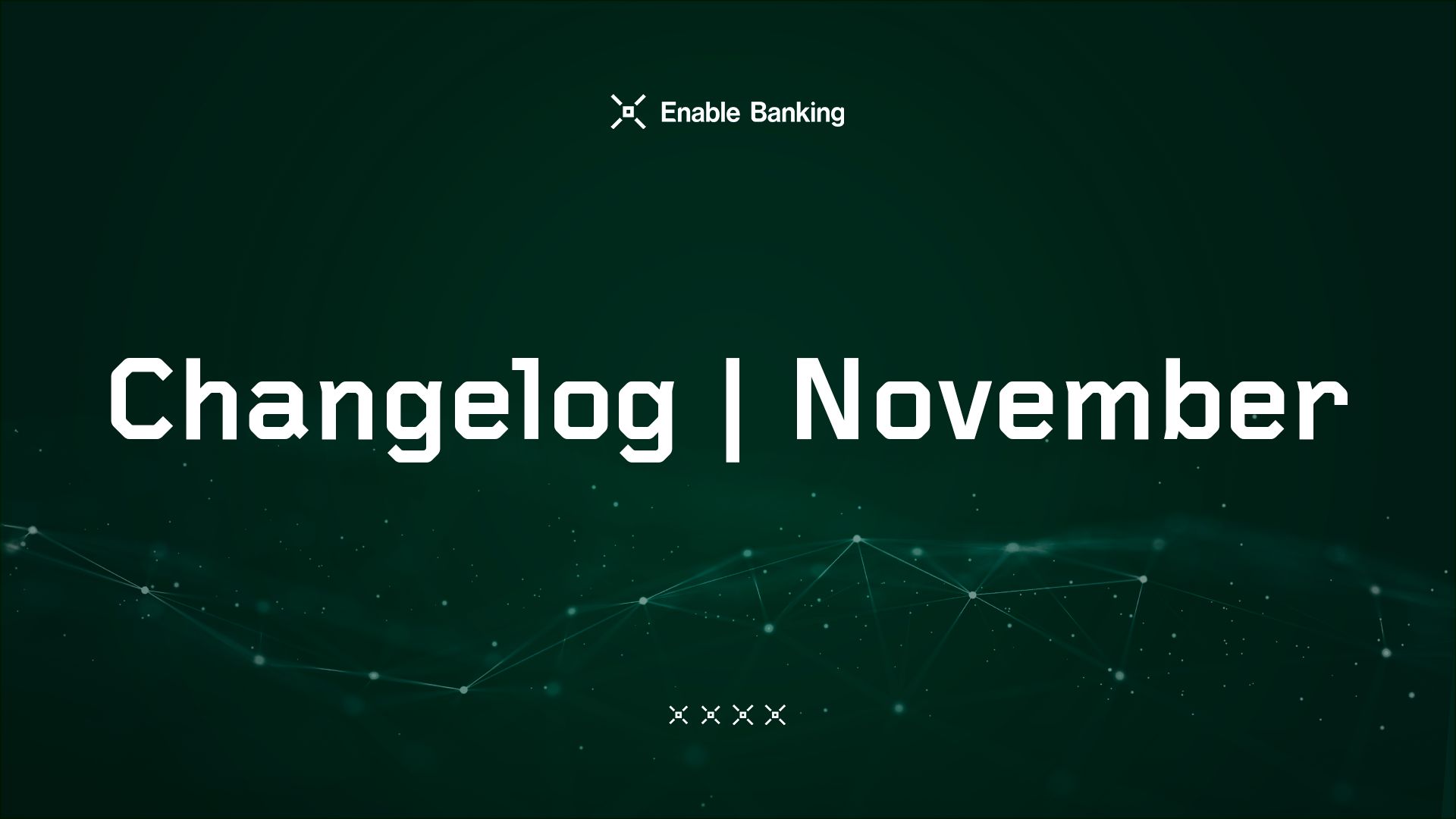 # The possibility for licensed TPPs to edit properties of live applications
This is a new feature in the Enable Banking control panel allowing more flexibility and self-service for the licensed TPPs when using their dedicated environments. It also allows registration of new live applications through control panel without the need for approval from Enable Banking (which is the case for application relying on Enable Banking's own AISP registration).
# German language support in the UI for end-users
We have added German language support of the UI shown to end-users during authentication (before and after redirect to an ASPSP). Partner applications may choose a preferred language when starting end-user authorisation (opens new window), otherwise the language is chosen automatically based on languages supported by the end-user's browser. Also terms of service are available in German (opens new window).
# Other Releases
Added SEPA payments support in the ABN AMRO (NL), ING (NL) and Rabobank (NL).
Added request for account holder name in the Swedbank integration (newly available feature in the Swedbank's API for SE market).
# New Countries
# New Integrations
apoBank (DE), Caisse d'Epargne (FR), KBC (IE).
# Bug Fixes & Small Improvements
Improved mapping of transaction fields in the integrations towards SEB (EE, LT and LV) and Svea Bank (SE).
Migrated to use v8 AIS API for the SEB (SE) personal and business integrations.
Enabled support of CURDEPOSIT and LOCDEPOSIT accounts in the Sparebanken Vest (SE) integration.
Extracting reference number from unstructured remittance information for Banco Santander (ES).
Added entryReference for the Norwegian banks using TietoEvry compliance solution and La Banque Postale (FR).
Added creditor/debtor IDs mapping for Sparkasse (DE).
Fixed PGNR account type handling for DOMESTIC_SE_GIRO payment type in the Nordea (SE) integration.
Fixed payment confirmation in the ICA Banken (SE) integration to adjust to the upcoming API breaking changes.
Fixed ID token verification in the AIB (IE) integration.
Small improvements and fixes in the IE integrations (AIB, Bank of Ireland and UlserBank).
Fixed handling of continuation key in the Societe Generale (FR) and Solarisbank (DE) integrations.
Fixed payment initiation in the SEB (EE, LT and LV) integration.
Authentication fix in the Resurs (FI) integration.
Improved handling of expired refresh token errors in the Qonto (ES, FR, IT) integration.
Multiple fixes and improvements in the CheBanca! (ES) and LCL (FR) integrations.
Fixed transaction amount parsing in the new American Express (EU) integration.
Fixed handling of "deleted" accounts in the SEB (SE) integrations.