# Enable Banking Changelog | December 2022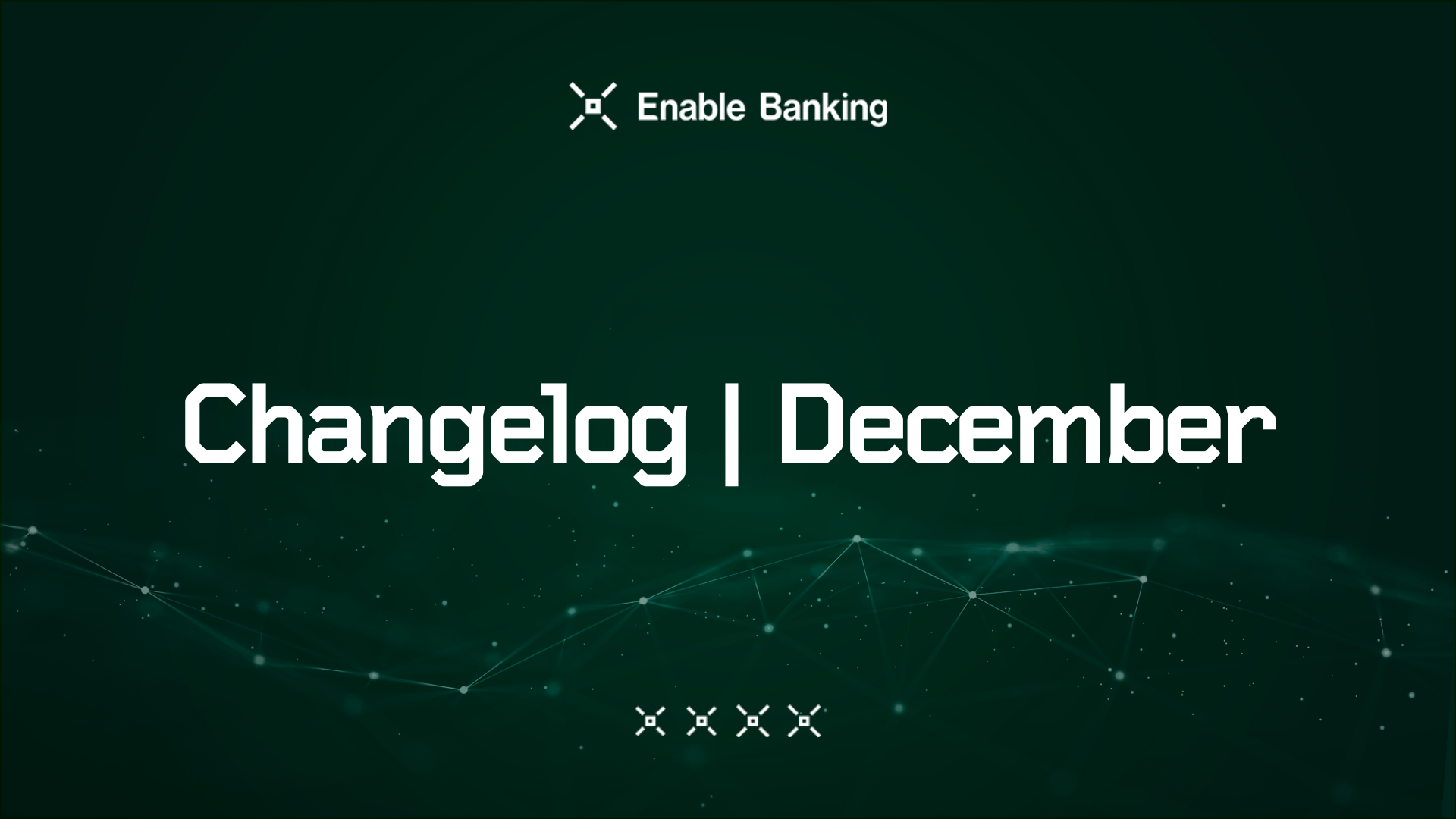 # SEPA and Instant SEPA payments for multiple integrations in the Baltics and Netherlands
Added support of SEPA payments for ASN Bank, SNS Bank and RegioBank in the Netherlands, as well as Medicinos Bankas in Lithuania. Added instant SEPA payments for LHV (EE), Citadele (EE, LT and LV), Šiaulių bankas (LT) and Revolut (EU).
# Other Releases
Added SEPA payments support in the N26 (EU), Handelsbanken (FI) and Aktia (FI) integrations.
Added domestic payments for multiple banks in Norway.
# New Integrations
Kontist (DE) this integration allows to connect directly to Kontist

(opens new window)

without the need to first register to Solarisbank in order to get connection working.
# Bug Fixes & Small Improvements
Added exchange rate information for card account transactions for OP (FI) integration.
Added support of fetching transaction in different statuses at the same time for POP Pankki (FI), Säästöpankk (FI) and Oma Säästöpankki (FI) integrations.
Added possibility to provide Company ID starting with TX for DNB (NO) integration.
Fixed handling expired consents in Handelsbanken, Nordea and KBC (BE) integrations.
Fixed authorisation of access for CheBanca! (IT), KBC (IE), Komplett Bank (FI) and Millennium Bank (PL) integrations.
Fixed transaction parsing when date is not present for Sparebanken Vest integration.
Fixed the issue of payment confirmation step being stuck for too long on authorisation status retrieval for SEB (SE) integration.
Fixed SEPA payment towards same country accounts for Danske Bank (FI) integration.
Fixed data mapping for KBC (IE).
Fixed transactions pagination, adjusted transaction data mapping and handing of invalid date ranges for Islandsbanki (IS).
Fixed transactions pagination for Credit Agricole (FR) integration.
Fixed request signature for Boursorama Banque (FR) integration.
Fixed accounts retrieval for Landsbankinn (IS) and Medicinos Bankas (LT) integrations.
Fixed transaction booking status for UnicajaBanco (ES) integration.
Improved handling of expired access tokens for the American Express and KBC (IE) integrations.
Improved handling of ACCESS_EXCEEDED errors for integration using Berlin Group standard.
Improved handling of 408 HTTP response code for multiple integrations.
Improved transactions filtering by date for OP (FI) integration.
Returning correct account type based on product name for Bank Norwegian integration.
Returning default currency for Polish bank accounts as "XXX".
Returning BOOK status instead of OTHR for card transactions for OP (FI) integration, because only booked transactions are returned by the bank.